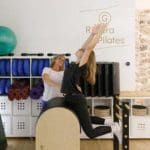 Traditional Pilates or Contemporary Pilates
12 November 2023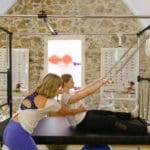 Training Frequency
12 November 2023
First and foremost, Pilates is much more than a mere physical exercise method. It is a holistic approach aimed at strengthening the body, improving flexibility, and fostering a better connection between the body and mind. Whether you are considering delving into this inspiring practice or are already a Pilates enthusiast. It is essential to understand the various levels of this fitness method.
The Essential Level is the first working level. Already effective, it prepares you for Intermediate-level exercises. Each exercise emphasizes specific target muscles, stability, and mobility of certain parts of your body. It involves endurance, balance, and coordination work.
The Intermediate Level is a more advanced stage. The exercises require greater endurance and coordination. This level can be tackled when you have a good body awareness, and your posture allows you to progress further in the sequence.
Having a good grasp of the Intermediate Level, the Advanced Level allows you to delve into aerobic work (cardiovascular engagement). It's a challenging workout aimed at enhancing endurance, strength, and agility through new and physically more demanding variations of familiar exercises.
If you want to experience the benefits of Pilates specialized equipment for yourself, don't wait any longer! Book your class now at our Pilates studio. Our qualified instructors will be delighted to guide you on your fitness journey.
Listen to your body, track your progress, and don't hesitate to consult a qualified instructor to guide you at every step. Whether you're starting your practice with the Essential level or reaching excellence in Pilates with the Advanced level, savor every moment of this wonderful fitness method. You are now on the path to better physical and mental health through Pilates!