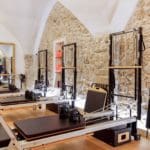 The Stott Pilates Method
12 November 2023
First and foremost, Pilates is a versatile form of physical conditioning that can be adapted to benefit a wide range of individuals, from beginners to regular athletes, elite athletes, rehabilitation clients, children, seniors, pre and postnatal clients, and individuals with disabilities
Who is Pilates for? With thousands of exercise modifications and equipment options to increase or decrease the challenge, Pilates can be adjusted based on the needs and abilities of each individual. It also provides a safe and effective workout for everyone.
Furthermore, applying an integrated and comprehensive approach to the body to enhance strength, flexibility, endurance, and overall fitness, Pilates is the perfect complement to cardiovascular activity, strength training, rehabilitation, or restorative exercise. For athletes, it is often integrated into their training.
Moreover, by emphasizing conscious breathing, body awareness, and mind-body connection, Pilates also provides stress relief benefits. Indeed, it is often sought after by individuals recovering from injuries or experiencing chronic pain…
If you'd like to experience the benefits of Pilates' specialized equipment for yourself, don't wait any longer! Book your Pilates studio session now. Our qualified instructors will be delighted to guide you on your fitness journey.
Who is Pilates for? Discover the benefits of Pilates for a comprehensive and tailored physical fitness. Finally, start today for a stronger body and a better mind-body connection!