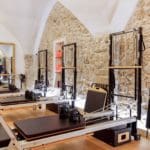 The Stott Pilates Method
12 November 2023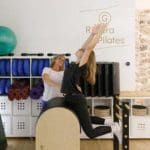 Traditional Pilates or Contemporary Pilates
12 November 2023
Pilates exercises are performed on a mat or on specialized equipment such as a Pilates Reformer, Cadillac/Trapeze Table, or Stability Chair™. All of them use springs to create resistance throughout the full range of movements without putting strain on the joints.
Firstly, regardless of the equipment you choose, regularly practicing Pilates on these specialized apparatuses will help you better understand your body and foster a deeper connection between your mind and muscles. By providing progressive resistance throughout movements, the springs contribute to injury prevention while toning and sculpting the body. Explore our Specialized Yoga Equipment classes.
Are you looking to enhance your Pilates practice and achieve new levels of strength and flexibility? Feel free to explore the possibilities offered by these specialized equipment. Whether you're working with a qualified instructor in a Pilates studio or have your own equipment at home, these apparatuses will pave the way for remarkable progress in your fitness journey.
The Pilates Reformer is one of the most iconic and versatile pieces of Pilates equipment. It consists of an elongated frame equipped with a sliding carriage connected by adjustable springs. As you lie on the carriage and perform controlled movements, the resistance from the springs intensifies the muscular effort. This allows you to develop core strength, flexibility, and balance while engaging in a wide range of motions. The Pilates Reformer can be adapted to all fitness levels.
The Cadillac/Trapeze Table
The Cadillac, also known as the Trapeze Table, is a Pilates apparatus that resembles a kind of bed with a metal frame above it. Straps, bars, and springs are suspended from this frame, offering a variety of exercises to improve shoulder mobility, core strength, and spinal flexibility. Additionally, the Cadillac is often used in rehabilitation, providing safe movements that specifically target problematic areas. It is also an excellent tool for flexion, extension, and rotation exercises, helping to alleviate back tension and strengthen stabilizing muscles.
The Stability Chair is a compact and versatile piece of equipment, ideal for muscle strengthening and functional stability. With its padded seat and adjustable pedals, it offers a variety of exercises that focus on strengthening the legs, arms, core, and stabilizing muscles. Adjustable springs allow for resistance modulation, making it a perfect tool for both beginners and seasoned athletes. By using the Stability Chair, you will not only enhance your strength and balance but also improve coordination and posture.
If you want to experience the benefits of Pilates specialized equipment for yourself, don't wait any longer! Book your class now at our Pilates studio. Our qualified instructors will be delighted to guide you on your fitness journey.
Don't forget that the key to success in Pilates lies in the precision and control of movements. So, focus on the correct and smooth execution of each exercise. As you master these equipments, you will discover a new dimension of physical and mental well-being through the Pilates method. Happy training!